I'm still coming off my Oscar-high. Combine that with having the best friends on the planet and Tah Dah! Wouldn't it be great to be invited to run lines with Ben Affleck & Matt Damon's? Or have a girls night out with Courteney Cox & Jennifer Aniston? OR just have a silly hangout with Zach Braff & Donald Faison?? Yea. That would rock.
Here are my Top 3 favorite Celebrity BFFs: 
#3 Jennifer Lawrence & Josh Hutcherson
#2 Justin Timberlake & Jimmy Fallon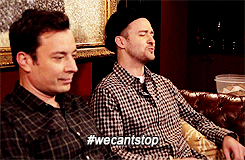 #1 Tina Fey & Amy Poehler
*A message to the above celebrities: Feel free to contact me anytime for some BFF action. 🙂
What celebrity BFFs would you pick to hang out with?