Those folks over at NPR…they're so clever….
So this past April Fools day, the pranks were everywhere on the interwebs. Even the smarties over at NPR got in on the fun and turned it into a social media experiment. 
They wanted to see how many people actually READ the article before commenting on it. 
So they posted this on Facebook: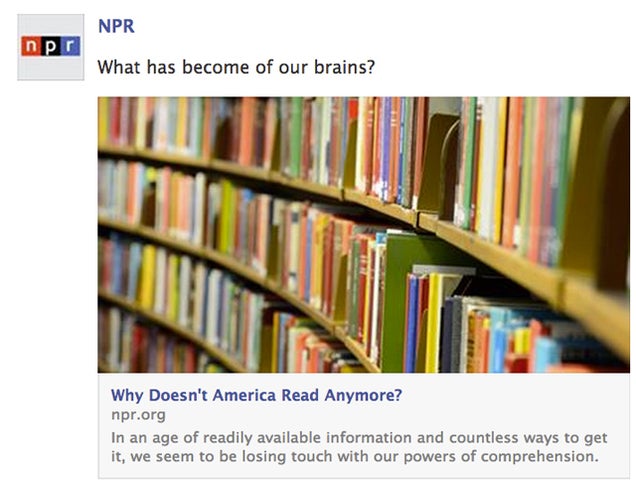 But when you clicked through to the article…you got this message:
Congratulations, genuine readers, and happy April Fools' Day!

We sometimes get the sense that some people are commenting on NPR stories that they haven't actually read. If you are reading this, please like this post and do not comment on it. Then let's see what people have to say about this "story."

Best wishes and have an enjoyable day,
Your friends at NPR

 

 
And their response was huge! It also proved their point that most people who comment on posted articles on FB don't actually read the articles… they just make assumptions by the headline and run with it. 
(Come to think of it, I would think that die-hard commentators would comment on the original article anyway, and not go back to the Facebook comment thread, but to each his own.) 
Check out all the great responses to those that "read the article" at this link: http://kotaku.com/a-reminder-that-not-everyone-reads-before-commenting-1557812641