Oh Award Season…you come and go so quickly….
(At least the fun Awards shows :))
Last night were the Academy Awards…and with being filled with some super close races (which Tim Green and I TOTALLY ROCKED AT PREDICTING!), you knew it was going to be a great show. 
I think this year's Oscars was one of the best shows all around, and the Academy can thank this lady for this accomplishment:
Ellen ROCKED it! True, she can never live up to my besties Tina and Amy, but Ellen brought the Academy Awards back to that level of entertainment.
Between the selfie that broke Twitter: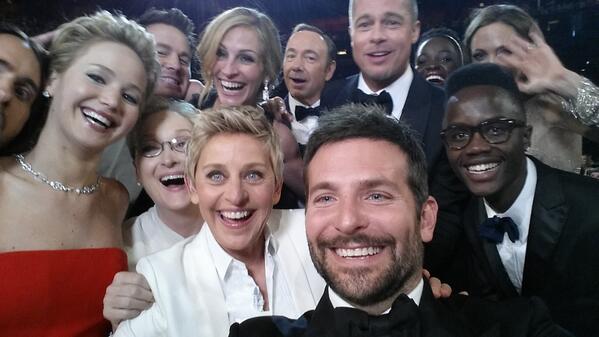 To ordering nom noms for the noms….
and then making noms pay for the nom noms…..
She can stay. 🙂
Musical Performances were great too (P!nk KILLED IT!)… and Pharrell Williams made all of THIS happen….
He can come back too…just as long has he wears normal suit pants….
Speaking of FASHION….. (see what I did there? hehe….
Here are my faves, what the?'s, and NOPES from last night.
Once again- another fairly decent collection of good fashion choices. Of course there will always be some weird choices here and there, but that's what makes this blog fun right? OK lets get to the dresses!
My FAVES:
These ladies ROCKED it last night. Amy and J. Law looked beautiful in their similar silhouettes, and I love how Jennifer brought back the backwards necklace. I'll be interested to see if it becomes a trend!  Sandra KILLED it in that Alexander McQueen (can I borrow that for the CAP Adult Prom please? ;)) and Lupita…what can I say? She's been winning at fashion at pretty much every single awards show since the season started. Tim Green and I believe she is Hollywood's next sweetheart. Good Job Ladies!
FAVES part 2: The off-white collection:
These 3 women also looked gorgeous. Kristen Bell looked slightly bridal, but she was in Frozen so I forgive her.(Yes I know that's poor reasoning but this is my blog not yours! 🙂 )  Cate and Kate were STUNNING! Cate's dress especially…I rarely like a nude dress on anyone, but she pulls it off effortlessly. As for the other Kate, I almost put her in the wardrobe malfunction category, but the way she carried herself and that dress you could tell she was "secure" if you know what I mean. WAY TO GO LADIES!
Next category….SEPARATES but Equal??
Meryl….well she's Meryl. She can wear a paper sack and I'll be ok with it because she is so flippin' awesome. And she's been to the Oscars what..18 times now? This is just another party for her. June Squibb is adorable. I had no interest in Nebraska, but then they showed the clip of her flashing her…ahem….womanhood….to the grave of a man who wanted in her pants and I about died of laughter. 
Emma on the other hand…not as excited about her dress. Her hair was adorable, and her moments with Joseph Gordon Levitt were just as cute, I think she could have done better. 
And now it's time for a break to play….WHO ROCKED THE BABY BUMP?!?!
and the winner is….KERRY WASHINGTON!
I have no idea what Elsa Pataky was thinking in her dress choice. I do love the green and what the fabric was doing, it beats out the poor steam job on Kerry's dress. HOWEVER…what is with that waistline under your bump?!? What made you think this look was attractive? You look like you are going to pop at any second! Whoever told you that this look was a good idea needs to seriously rethink their career in fashion. Or is holding a grudge against you. You may want to fix that. 
Our next game…WHO WORE IT BETTER?
If you were watching the show last night and saw Whoopi and thought…hey, I've seen that look before…it's because you did. On Julia Roberts. 2 months ago.  Who ROCKED that look way better than Whoopi. Sorry Whoopi, but this was a bad choice. 
And now…the category you are all looking forward to…the NOPE category! 
Amazingly enough, I had to role my wardrobe malfunction, project runway, too matronly for your age categories all into one, because everyone looked THAT GOOD. 
Anna Kendrick: I was back and forth on this one. I think she is just in need of an "editing eye" from Tim Gunn. I think it's the "slit" that is bothering me. So she is in the project runway category mostly. 
Jennifer Garner: Ugh. You've done so much better than this. It's flapper girl gone wrong. What really sealed the deal were the SHOES. You can't tell in the photo, but you could tell when she walked out to present. they were some serious chunky platforms that I'm pretty sure were from a 1995 prom…and I mean that in a bad way. 
And the worst…Angelina Jolie. I'm sorry girl. You are a wonderful human being. Going from weird goth girl to using your fame to make a difference and earning the Humanitarian Oscar for doing so, also being a mother of 6 with the ever beautiful Brad Pitt, you have a lot of great things going for you. This is NOT the dress for that. Where do I start?!? I've never seen a dress that was soooo matronly and yet at the same time worried about a wardrobe malfunction. Also, remember how I said that Cate rocked the nude look? that's because she's got the porcelain skin look. You girl, do not. You have that "natural tan" look and this deserves bold colors or jewel tones, not a color that fades into your skin! AND- we all know you still look great…so show off the goods while you still can! 
Well, there you have it! my opinion of the Oscars. Overall- great show. It was worth skipping a night of catching up on Walking Dead. 
What did you think of the show?